In my previous blogs I had told you that I belong to a doctor's family where every focus is on being healthy ,leading a healthy lifestyle , staying active , in short living a quality life.
In 2017 ,while my visit to a gynecologist for a normal checkup after marriage, i came to know that i have been diagnosed with the PCOS, till then I didn't even know what it was and how to deal with it.I came home with a heavy heart and inform my family about it.
My symptoms where as followed:
I kept on searching on internet about poly cystic ovaries and internet was full of information with PCOS ,such as what is PCOS and how it will effect me in worst possible way which made me even more hopeless.My family told me to change my lifestyle rather than taking some medicine for PCOS and gave me hope that we will visit another doctor after sometime, as the best time to get your ovaries check is on 5th day of your menstrual cycle .Meanwhile I avoided all the sugary items,carbohydrates and was having more fiber and protein in my diet.
One day my friend visited me and told me to bring some mental peace or exercise in your life ,she suggested me Yoga as the best therapy as she was a yoga instructor , I admitted myself in her Yoga program effective for PCOS.
Yoga is something which changed my life, i started to feel more stress free, more energetic, more motivated ,more passionate and a happy person.Bringing yoga in my life was by far the best decision ,I do yoga rigorously in the morning which makes my whole day a happy day.
Now here comes the twist,after sometime i visited the doctor again for an ultrasound and came to know that i have poly cystic ovaries which I misunderstood as PCOS 😮
I was happy but what I did was continued with Yoga and did many coarse on yoga and now I am teaching others and they are living a healthy life.I also realized that there are many women out there who doesn't know what is PCOS and what to do when they are diagnosed with PCOS ,so here I decided to use my skills as I am a Computer Engineer and gather all the important aspects under one roof which can help so many women with this disorder and they can minimize their symptoms and can lead a happy healthy life.
I took out time to make a website for PCOS patients because majority of the ladies are under going the symptoms and they don't have any awareness about it .
This website would be a platform of awareness of What PCOS is?How to deal with PCOS?What Yoga is? and How to bring Yoga in your life?Poses Of Yoga For PCOS, because there is no treatment for PCOS,but the adversity of the symptoms can be reduced with the regular exercise,weight loss and portion control of the diet.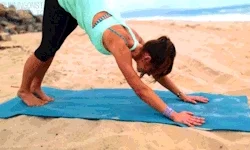 It will be a free website as I want to bring awareness, not only to the ladies in my surroundings but to all the beautiful ladies throughout the world.
The website is under development and the URL will be uploaded soon so please everyone lets spread the words and stay motivated.
That was My Story Of Polycystic Ovary Syndrome(PCOS) and its cure through Yoga, I hope it will help others facing same problem.
You can browse some more useful related links
Click Here